Girls Volleyball
CONGRATULATIONS 5TH GRADE 2016 CITY CHAMPS GOLD!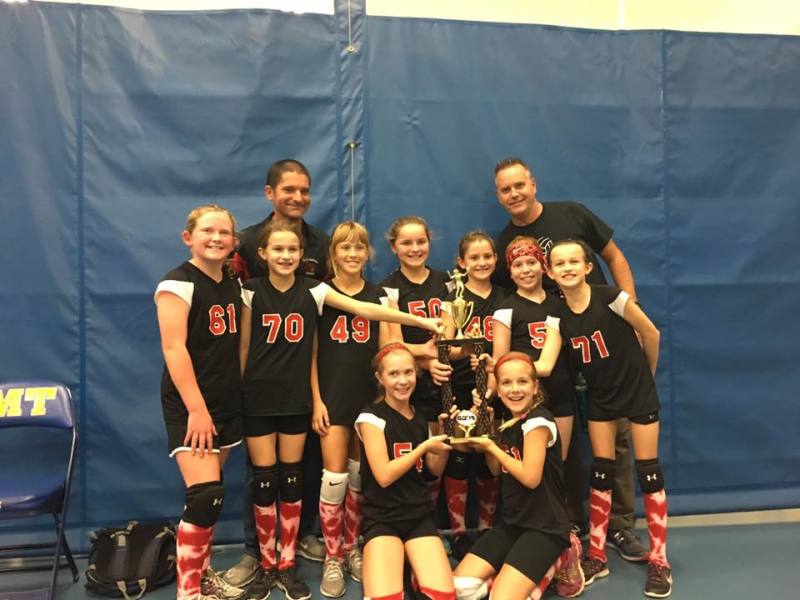 REGISTRATION IS NOW OPEN FOR THE FALL 2017 GIRLS VOLLEYBALL SEASON

Registraion dates:
Mar 1 - May
Cost:
$155 per player
Who can register:
Girls who will be in grades 3rd-8th grade in the 2017-2018 school year. Players can be St Columban Students or St Columban ERE students.

GCCYS League
Each team will play in this league. Each team will abide by the GCCYS rules and St Columban Booster Policy. All teams will play 10 games (3 sets each rally scoring) and will play in the post season tournament. All teams are capable of adding 2 in season tournaments, if they desire.

Season dates:
Tryouts for 6th-8th grade will be mid May
Evaluations for younger grades will be in early August
Practices will start in August (2 - 90 min practices per week)
Games August - October
Post season tournament end of October - early November

3rd, 4th, and 5th grades
All teams at this level are recreational. All players have approximately equal play time. Team selection/evaluations will take place in August in order to divide each team per grade equally (equal skill levels on each team.) Evaluation date will be announced after registration closes.

6th, 7th, and 8th grades
These grades will have competitive and recreational teams. The teams will be chosen in A, B, C format for each grade. Tryouts are done at Sports Express by their evaluators and club coaches. Dates will be announced after registration closes, probably mid May. Players may choose to be played on a recreational team during the registration process. Those players will not have to attend tryouts.

Coaches
Each team will need a head and assistant coach. I would love to have parents and non parent coaches. If you or someone you know has volleyball knowledge or experience, please consider volunteering your time to coach a team. Please contact me for details if you are interested.

We're looking forward to another great Bobcat Volleyball Season!
Jenni Mollman
Volleyball Coordinator
Jennimollman@gmail.com